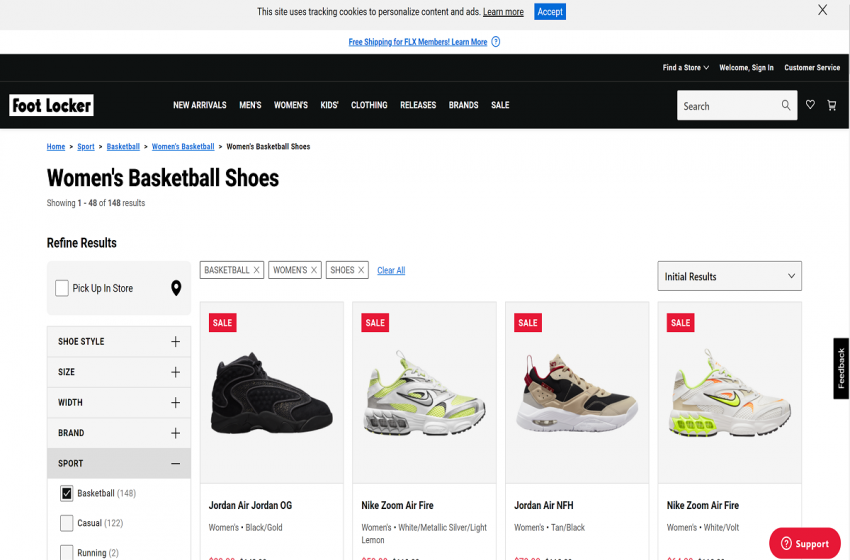 Tips to consider when buying basketball shoes online
Many people love to buy the latest basketball shoes either to support their favorite NBA team or simply because they enjoy wearing the best in sports equipment. So, if you are looking for a new pair of basketball shoes and are considering buying them online, this article is for you!
What are the best considerations when buying a basketball shoe?

Image Source: Link
There are a few things you should take into consideration when purchasing a basketball shoe. One is the type of player you are. If you're someone who plays on the perimeter, you'll need a lighter shoe with good traction to make quick cuts. Post players need a sturdier shoe to protect their feet from all the banging down low. Another thing to consider is the fit. You don't want a shoe that's too tight or loose – it needs to be just right. And finally, make sure to pick a style that you like. After all, you'll be wearing them on the court!
How do you go about finding the right basketball shoe?
Image Source: Link
There are a few things you should take into consideration when looking for the right basketball shoe. First, consider the type of player you are. Are you someone who needs a lot of support and stability on the court, or is you looking for a lighter shoe that will help you move more quickly? Second, think about the surfaces you'll be playing on most often. If you play mostly on outdoor courts, you'll want a different type of shoe than if you play mostly indoors. Third, take into account your budget. Basketball shoes can range in price from around $20 to over $200, so it's important to find something that fits your needs and budget.
Once you've considered all these factors, it's time to start shopping. The best way to find the right basketball shoe is to try on as many different pairs as possible until you find one that feels comfortable and provides the support and traction you need. You can also read online reviews from other players to get an idea of which shoes are popular and which ones to avoid.
How do you know which size to buy?
Image Source: Link
When considering what size to buy, it is important to know your foot measurements. You can do this by tracing your foot on a piece of paper and then measuring the length and width. Once you have these measurements, you can consult a size chart to find the corresponding shoe size.
It is also important to remember that different brands may have slightly different sizing. Therefore, it is a good idea to read customer reviews to see if there are any common issues with particular brands running small or large.
Finally, when in doubt, it is usually better to avoid buying a larger size rather than a smaller one. This is because it is easier to make a shoe fit snugly with socks or inserts than trying to stretch out a shoe that is too small.
Conclusion
Image Source: Link
There are many factors to consider when buying basketball shoes online, but if you keep these tips in mind, you'll be sure to find a pair that fits both your feet and your budget. With so many options available, it's easy to get overwhelmed, but by taking time and researching, you can find the perfect pair of basketball shoes. Thanks for reading!